this is the Saturday Morning Home Repair Blog where the Dailykos community gets together to talk about all things construction and repair. Our genial and expert staff stand ready to aid you on your every problem
exlrrp's law #3: You're never too smart or too experienced to do stupid things. I'm learning----slowly. Now this is a great example of bassackward thinking: I been working for years on my house always thinking----when I'm done with all this, I'm going to build myself a nice workshop as a reward.
DOH! WRONG!! Build myself a nice workshop NOW, dummy, and finish the rest of it all with a nice workshop to work in. I mean: why wait to build myself a big workshop just to make birdhouses in? This is why you should always eat dessert first---you may be dead by the end of dinner. Do it NOW and Make life easy on our sweet selves in the future (I'm a big fan of Gollum--now he had some cojones! Boy did he get ripped off and abused!)
Now one thing my workshops have always been is dingy and dusty, usually the back of some 2 car garage.. I wanted something light, white, easy to see and work in. Something Martha Stewart might build a spice rack in.
I have a big 24x40 lets call it a garage. Actually there was another garage but we converted it into mrs e's tackroom. Anyway, mine's a wood framed, metal sided (delta ribbed) building that's attached to the exgarage. I put a whole new metal roof on it 3 years ago, which stopped several leaks.
OK the first photo shows the wall attached to the exgarage after I had cleaned it all out and added pegboard. this was a really stanky workbench I had spilled stain all over, stuff heaped all over it. I love pegboard now, what you see in all is 5+ sheets of it. Makes it look all Martha Stewart meets Norm Abrams and they get married and have babies. I can hang stuff up and see what and where it is.

Here's what it looks like now. the counter tops are Home Depot off the rack.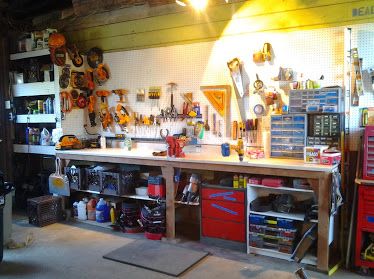 Nice to have a place to hang all my tools with the battery chargers near by. This shows the shelves on the far left which were REAL funky. Covering them with bits of pegboard really made them look better

But wait----there's more. I do work in all the trades on a house: carpentry, electrical, plumbing, roofing, taping, painting----ALL of it. And I'm always mixing tools and spending a significant amount of time looking for them. I wanted a separate place for all the different stuff: a separate place for paint tools, electrical tools, carpentry tools, etc plus auto mechanics and yardwork.
I also sometimes buy a lot of stuff I already have. It all gets shoved in a box or drawer somewhere and then I forget it. If I can see it, I know I have it----ergo the pegboard.
So if you did a 180 degree turn from where the last photo here's what you'd be looking at: a whole nother section for all the different stuff. The countertops are at different heights to make it easy to work on different things. The drawers were saved from an old trundle type bed that was left here and aren't I glad to have them no longer taking up space.The clamps you see on the ends of the counters are to hold it down untill the glue dries. Glued and screwed

OK, so now I got a really nice workshop to do the rest of my projects in. If claude ever comes to visit me I won't have to hang my head and act all humble (don't know why its always so hard for me to do this I got so much to act all humble about).
I probably won't be here to know it all today, you'll have to get the answers from someone else who knows it all, (Ref: John) tho I may lurk via smartphone. I'm traveling in CA as you read this. And next Tuesday its off to Chile for 3 weeks, another exlrrp worldwide adventure. This is why it takes me so long to do things, in between projects I run around the world solving people's problems. So you won't be seeing me around for a while. Not that I don't like you, its just a big world out there, just waiting for me to sink my teeth into it. Grrrrr The world awaits my explorations.
but I'll be out there......waiting.....Boooooahahahahahaha.
Tata for n----OOPS! I mean Ciao